Ohio Veterans Outdoors, Inc. is a 501(c)(3) Nonprofit organization created by and for Veterans of the US Armed Forces.
Mission: Promote Veteran wellness through outdoor experiences and education
Purpose: Provide opportunities to these veterans that promote personal growth, healing, stress relief, character development, relationship building, and community strengthening through outdoor experiences, activities, and educational programs relating to wildlife management and conservancy efforts with the goal of raising public awareness of and enlisting public support for wounded veterans.
Brian Luce founded Ohio Veterans Outdoors in June 2016. He is a retired US Air Force pilot injured in a plane crash in Afghanistan in 2010.  In addition to physical injuries – traumatic brain injury, broken back, and broken leg (left tibia and fibula) – there were even more debilitating mental and emotional effects of the traumatic event.  Brian lost two squadron-mates – the pilot and flight engineer sitting right next to me who were friends, husbands, fathers, and highly respected in our community. Two others were killed in the cabin – a young US Army Ranger and their Ranger interpreter – a 26 year old contractor.   Brian's seat was thrown from the aircraft just prior to the aircraft cabin folding over the cockpit, causing the four fatalities and 16 severe casualties. Brian was milliseconds away from leaving his then three kids without a father.  Why his seat left the aircraft and how he survived is a mystery to everyone involved.
In 2013, with help from the Wounded Warrior Project, Brian participated in my first wounded warrior event, a whitetail deer hunt in the Blackwater Forest of Northwest Florida. The Florida Forest Service acted as their hosts and hunting guides. Brian and the other veterans were treated to a great hunt and some great down time around the fire pit.  That hunt let him escape for a few days and in the process, meet a medically-retired Infantry Scout, Jeremy, who became one of Brian's very close friends.  He was blown up by a rocket in Iraq and participating in the hunt for the same reasons Brian was – support, help, camaraderie, fellowship, and some peace.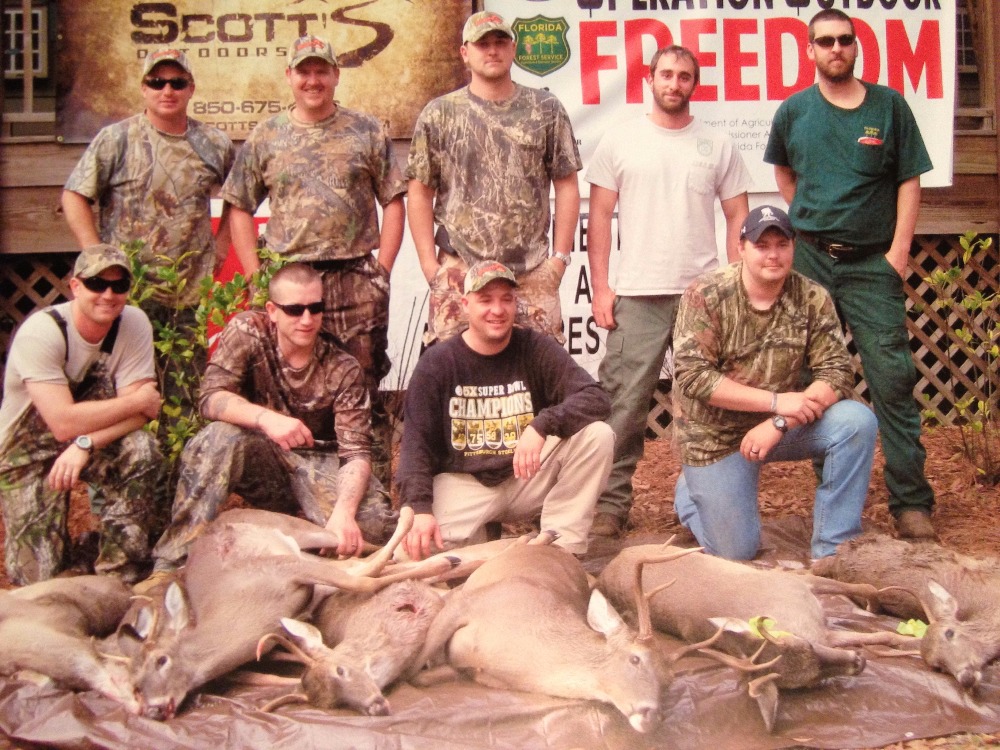 (Blackwater deer hunt, Brian far left kneeling, Jeremy black shirt kneeling – thanks WWP and FL Forest Service)
At the end of the great weekend as Brian, Jeremy, and the other six warrior hunters were pulling our trucks out of the parking lot – each with a cooler full of freshly butchered venison – Brian was snapped back into reality and suddenly sad again…he had to go back to work, the "real world" and wrestle with all the 'dragons' of the crash and it's aftermath.  Jeremy may have sensed his pain and invited Brian on another wounded warrior hunt near Tallahassee run by a small, grass roots organization.  Thus the start of a lifelong friendship and the seed planted for similar organization.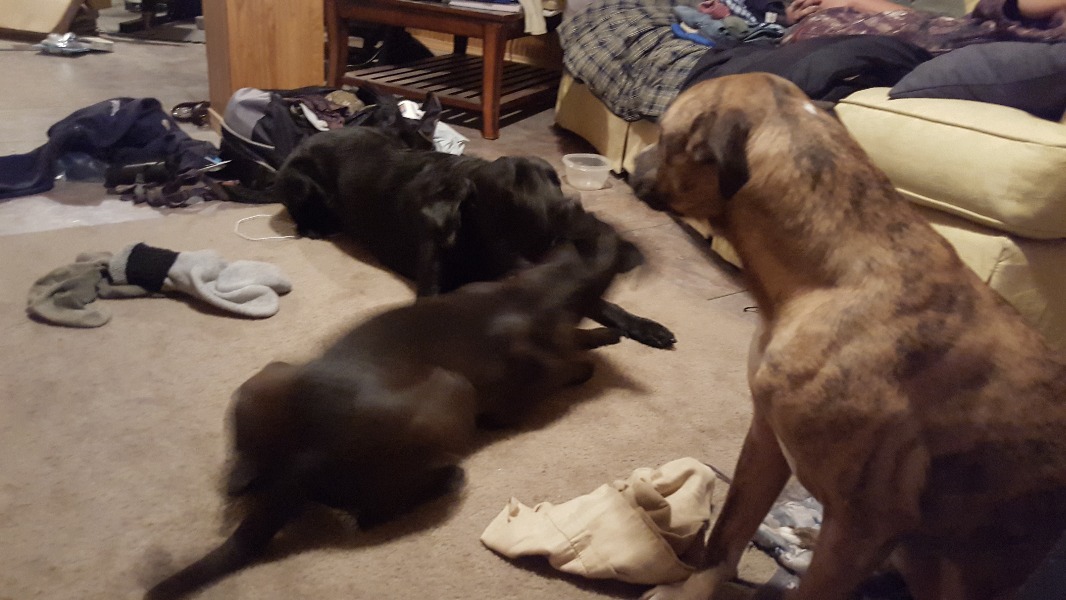 (Jeremy's service dog, Trooper, and Brian's two mutts wrestling when he was up from FL to hunt in 2015)
Brian returned home one Sunday afternoon after a turkey hunt with Jeremy and Hot Coffee Hunts for Heroes in Mississippi and told his then wife – who he claims was a "saint" for putting up with his roller coaster emotions, and stubborness to get back to flying – that he wanted to give back somehow and do something like that hunt he was just on.  For him to fully recover, he needed to help others recover, get some peace, and start to heal.  
(Paul and Todd McLemore – two of the funniest guys Brian has ever hunted with – thanks Hot Coffee Hunts for Heroes)
Brian's organization grew quickly with the help of James, another USAF veteran and friend and a huge cast of volunteers, donors, and sponsors. OVO started the process of giving back right here in Brian's then new community of Clarksville, in Southwest Ohio.  Ohio Veterans Outdoors has grown considerably over the years and we now we serve the entire state of Ohio, have a 9-member board of directors, and execute 12 or more events annually.
Brian serves as the Board President and continues to run or help out with most of the events. OVO takes veterans on outdoor experiences like hunting and fishing, which are key components to proper habitat conservation and wildlife management. These events encourage a healthy way to manage stress, pain from injuries, depression, anxiety, and trauma while connecting veterans to each other and to their communities.  We also hope to raise awareness of veteran health in our rural community and fight the battle against the way-too-high suicide rate among veterans nationwide.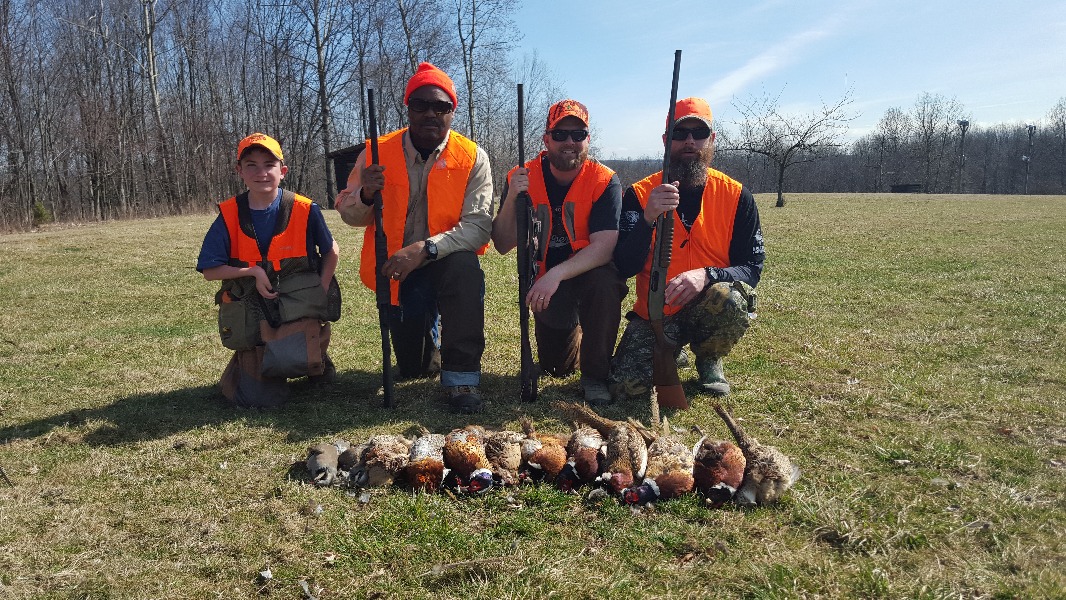 (From R to L – Conan (USAF), Brian, Melvin (Army) and their guide on a Pheasant hunt in PA – thanks WWP and Rosebud Mining)
We hope to overhaul our website soon (we need the right volunteer!) and publish all of our tax records and charity documentation. In the meantime, any records can be requested via email from mail@ohvetsoutdoors.org
Thank you so much for taking the time to read this, please consider helping us give back to the men and women who've given so much for this great country.